According to SustainAdvisory's market observatory and based on data from Borsa Italiana, the volume of green, social and sustainability-linked ('GSS') bonds issued by Italian issuers in the first half of 2022 fell by 68% compared to the same period of 2021, stopping at EUR7.2bn for a total of 11 issues of which 3 'green' and 8 'sustainability-linked'.  The most dynamic sectors remain utilities and infrastructure, confirming the need for these sectors to accelerate the de-carbonisation process through significant transition investments.  The 'sustainability-linked' instrument S is confirmed as the most popular type of bond.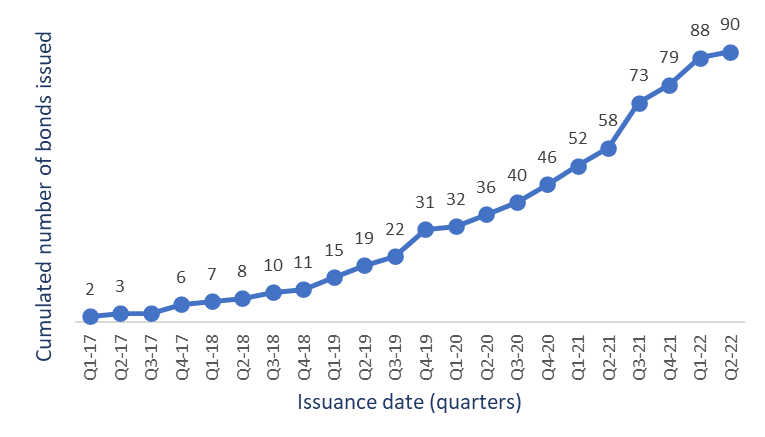 The most conspicuous drop in volumes was recorded in the second quarter as a consequence of the macroeconomic instability caused by the Russian-Ukrainian conflict. 
1H2022 Issuers

There were in fact only two issues in the second quarter – those of Hera Spa and A2A Spa – for a total of EUR1.1bn, the lowest volume level recorded in the last nine quarters. Rising interest rates and the inflationary spiral contributed to the slowdown in the GSS bond market.
The outlook for the second half of 2022 is largely affected by uncertainty regarding the outcome and duration of the Russian-Ukrainian conflict. However, the current negative trend could be partially mitigated by the measures envisaged in the European Commission's extraordinary plan, RepowerEU, to ease Europe's dependence on Russian fossil fuel supplies by accelerating the penetration of renewables, diversification of energy sources and investments in energy efficiency.
The Commission proposes to increase the EU's 2030 target for renewable energy from the current 40 per cent to 45 per cent. The REPowerEU plan would increase the total renewable energy generation capacity to 1,236 GW by 2030, compared to 1,067 GW by 2030 in the 'Fit for 55' plan for 2030, also thanks to new regulations and recommendations for faster authorisation of renewable energy projects in low-risk areas.
You may also like this