The assessment and disclosure of the physical risks arising from climate change is a core content of the non-financial reporting obligation for banks and corporates. However due to a severe deficiency of data availability, data collection and recording can be a challenging exercise.
AWARE© Accident Weather Analytics & Risk Events
To support the measurement and reporting of climate risk for the Italian territory, SustainAdvisory has developed AWARE© "Accident Weather Analytics & Risk Events", a set of climate-related risk indicators that assesses the physical risk arising from climate events: intense and frequent rainfall, floods and related hydrogeological incidents, such as floods and landslides, increased temperatures, heat waves or frost and wildfires. AWARE is available for the whole of Italy at a municipal, provincial and regional level. The algorithm underlying AWARE operates on information collected from different databases, depending on the recorded climate event. Results are provided in the form of a synthetic risk indicator (e.g. hydrogeological risk) and a set of thematic risk sub-indicators (e.g. flood risk, landslide risk, heat waves, frost waves, etc.), expressed as a score and mapped onto an ordinal risk scale (risk class).
Italy's Exposure to Physical Risks from Climate Change is High
The increase in global greenhouse gas emissions is related to ongoing climate changes such as melting glaciers, rising ocean temperatures, increasing droughts, wildfires and intense precipitations, floods, and landslides. The Italian territory is no exception to this picture and shows a high-risk exposure to climate events.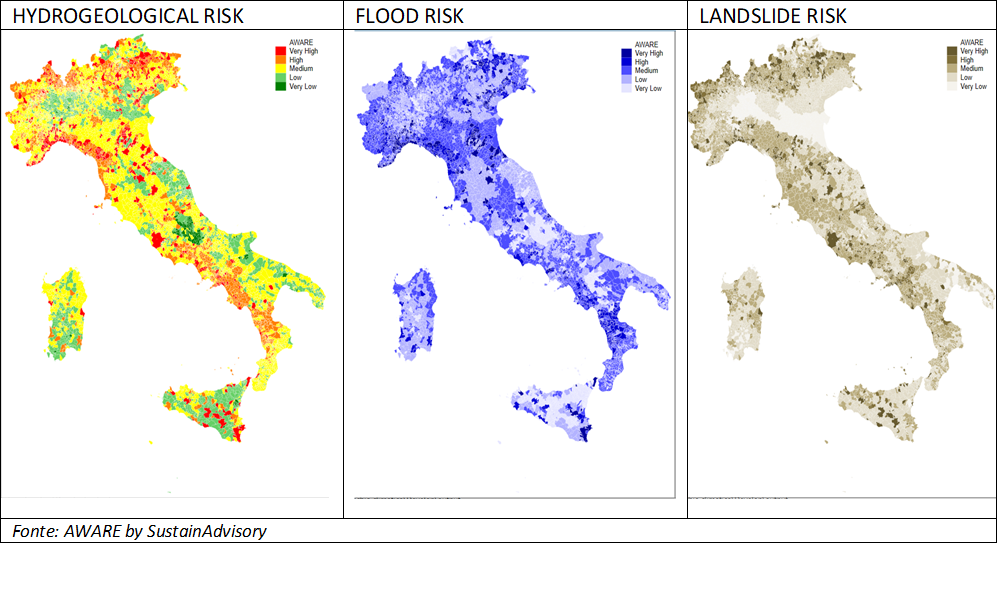 According to the output of AWARE's risk scoring model, 73.5% of the Italian municipalities are exposed to a hydrological risk ranging from 'Average' to 'Very High' and for 24% of those municipalities the risk is 'High' and 'Very High'. The risk is derived from the concurrence of three climatic events: floods, landslides and precipitations. The score considers the area at risk of the municipality, the number of inhabitants and the number of acute events that have occurred in recent years.  Flood risk and landslide risk is 'high' or 'very high' for 12.1% and 7.9% of Italian municipalities respectively. 
Regional, provincial and municipal dimensions
AWARE is available for the entire national territory, on a regional, provincial and municipal level.
The following table shows the exposure to hydrogeological, flood and landslide risks for the Liguria region, one of the Italian territories that in recent years has been hit by numerous extreme events and has reported significant losses and damages to infrastructure.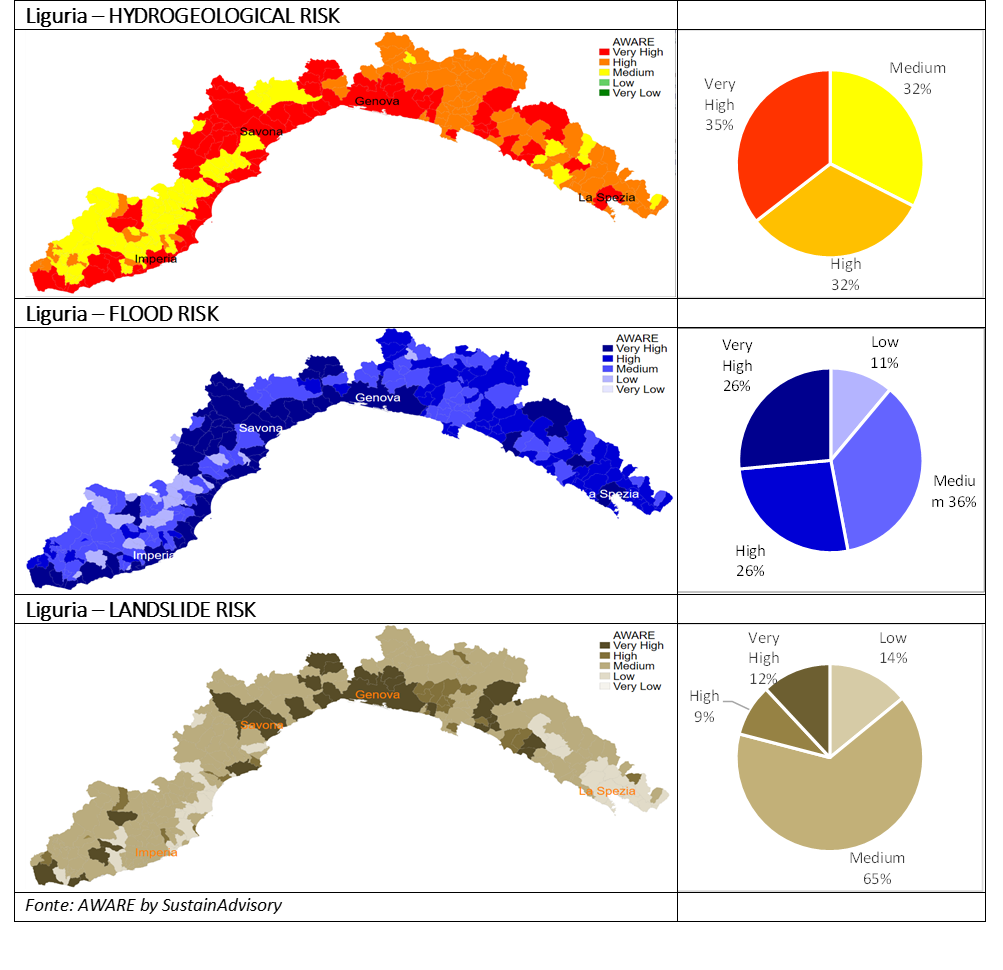 The hydrogeological risk of Liguria is characterized by the absence of territories at low or very low risk, while 67% of the territory is at 'High' or 'Very High' risk. 52% of the territory has a 'High' or 'Very High' flood risk; while the landslide risk shows only 14% of the territory at low risk, 65% at medium level, and 21% at 'High' or 'Very High' risk.
Losses from climate events
According to the European Environment Agency (EEA), over the last 40 years climate-related extreme events have caused economic losses totaling an estimated EUR446billion in EU member countries. Italy accounts for 16% of the total, Germany 24% and France 15%.
Climate change risk is the focus of European Central Bank ('ECB')'s attention for the systemic implications of its physical dimension that increases the risk of financial losses stemming from expected increase in the frequency and magnitude of natural disasters. Extreme climate events can generate shocks to demand and supply of goods, for example foods and electricity, while persisting and chronic physical climate changes, like global warming, can impact production capacity and accelerate assets' deterioration, infrastructure disruptions and, more generally, trigger asset impairment.
The banking sector exposures affected by physical risks beyond 2040 will depend on actions for reducing emissions and on the degree of adaptation to climate change. To this end the ECB is starting to keep track of banking exposure's physical risks in its supervision activity. From June 2021 banks are expected to report their credit portfolio by sector and exposure to chronic and acute climate events, while in 2022 a climate stress test on European's Significant Institutions will take place.
Be-AWARE
AWARE is available for all the chronic and acute climate events as requested by the regulation on prudential disclosures for ESG risks (Article 449a CRR) upon request. The prospective risk assessment based on the intermediate (RCP 4.5°) and extreme (RCP 8.5°) scenarios will be available soon.
You may also like this